Skip to Main Content
It looks like you're using Internet Explorer 11 or older. This website works best with modern browsers such as the latest versions of Chrome, Firefox, Safari, and Edge. If you continue with this browser, you may see unexpected results.
Librarian
Angela Lucero
she/her/hers
Is It Peer Reviewed and How Do I Know?
Peer Review is a process that gives an article more credibility. It's quality control!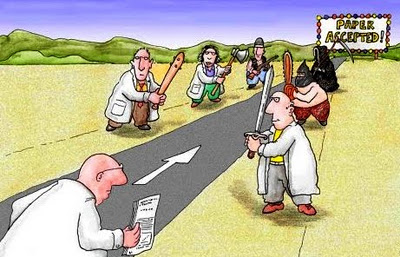 If you still have questions, ask a librarian.
First things first: not all articles can be peer-reviewed. If the article in question is any of the following, it is not peer-reviewed:
Book Review
Opinion
Editorial
Letter From the Editor
Announcements
Interview
You should check to see if the periodical/ magazine/ journal your article is from even publishes peer-reviewed articles to begin with.
Search for the periodical/ magazine/ journal in Ulrichsweb. If it's peer-reviewed, you'll see this
icon. (Refereeing is sometimes used as a synonym for peer review).
If the publication isn't listed in Ulrichsweb, look it up in DOAJ.
If you're still not sure, ask a librarian.
Did you know a lot of databases that have peer-reviewed articles let you filter your search to just peer-reviewed articles?
Look for options and filters like these:
If you're still not sure, ask a librarian.